Mile (or two) of Pennies
Those of you who have read the Bleasby Local History Society booklet entitled "Bleasby in Wartime" will perhaps recall that there is a record of a "Mile of Pennies" fundraising event that was held in the village to raise money for the war effort.
Whilst we are not mercifully at war, the Covid 19 restrictions are perhaps not too dissimilar in some ways to villagers' experiences in the 1940s.
The wartime organisers planned to physically lay a mile of pennies, starting at each end of the selected distance, from St Mary's Church to Goverton Hill.
As a part of the fundraising effort for Bleasby in Bloom 2021, we decided that we would re-enact this activity, quickly dismissed the idea of doing it physically, and decided to do it virtually using modern technology.
We also decided to go the extra mile to reach Hazelford – so the target is 2 miles.
Doing this in this way avoids the need to physically handle a considerable number of coins (80,425 1p coins per mile), as well as, perhaps more importantly, not having to shut down Main Street to traffic!
To take part, please buy as many 1p coins as you wish at a price of 50p per metre, and do this by going to the Just Giving Account - Bleasby in Bloom 2021 (click here). When buying coins, please enter "Mile of Pennies" as a note.
All donations will be shared between St Mary's Church and the Bleasby Village Hall along with other funds raised as a part of the Bleasby in Bloom 2021 activities.
We will show progress of donations from time to time on the map below.
Thank you for your support.
Bleasby Events Group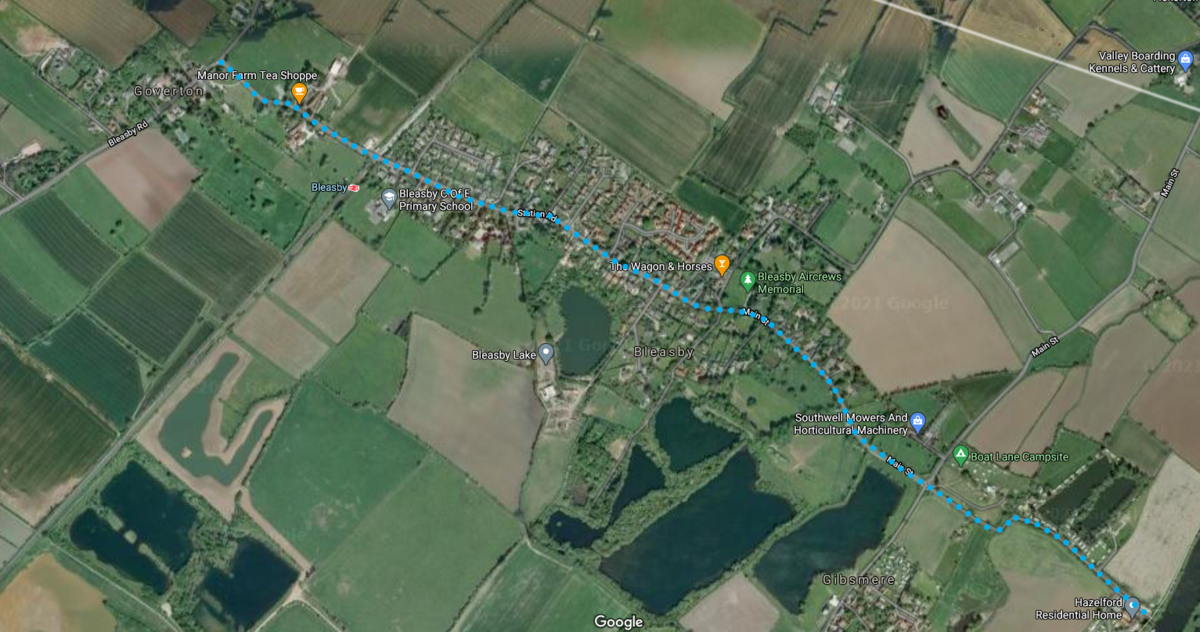 Target route for Two Miles of Pennies